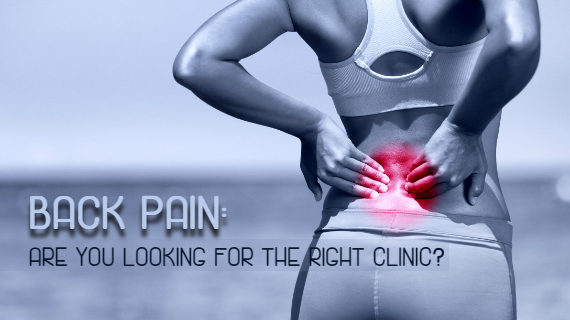 Back Pain: Are you Looking for the Right Clinic?
Back pain remains one of the most common problems among people in the UK. The commonality of the problem has – sort of – led us – to ignore initial signs. The same thing happens with neck pain as well.
Now, the real problem arises when your back or neck pain intensifies. In the event of your pain becoming chronic it might as well become difficult for you to carry out daily tasks. These are the times when you should unfailingly seek medical help. Look out for a credentialed back clinic which offers a range of treatments that include lumbar or lower back pain, cervical or neck region pain and thoracic or middle back pain.
Back Pain Clinics: What you Need to Know
There is no dearth of clinics in London that offer both traditional surgical treatments and non surgical treatments. The contemporary non-surgical treatment options include PRP or platelet rich plasma therapy, physical therapy and spinal injections. In case, surgery becomes compulsory, then these clinics – backed by their state-of-the-art-facilities can offer you solutions associated with minimal invasion and faster recovery procedures. Make sure you're zeroing in on clinics that are backed by the services of fellowship-trained physicians, who are actively associated with research programs that include pathbreaking approaches to spinal surgical techniques.
The Facilities that you Ideally Should have Access to
Notably, a credentialed clinic should be equally adept at treating common and complex spinal conditions including:
Kyphosis
Degenerative conditions
Sciatica Pain
Myelopathy
Herniated Discs
Scoliosis
Spinal stenosis
Radicular Pain
Spine tumors and infections
What Else should you Know?

Notably, the best clinics out there devise treatment plans tailored for individual patient needs. Today, if you are experiencing pain in your back or neck region, you should be prudent enough to get it checked by back or neck pain specialists. Don't wait for your pain to assume a monstrous shape. Early diagnosis and treatment can keep higher risks at bay. If you are prudent enough to get your back or neck pain treated right on time, you might as well be fortunate enough to keep surgery at bay.
Do ensure that you are only settling for services after you have checked credentials of the clinic thoroughly. There are not one but several avenues of information in this regard. Do be informed that there is no dearth of back clinics treating patients in the UK. However, you should be prudent enough to acknowledge the fact that not all of them are equally credentialed to offer you quality care. Thorough research plays a key role when it comes to finding the right clinic in this regard. Do ensure that you are reading reviews and securing personal recommendations before you're actually in the process of selecting a clinic. In order to find out about the infrastructural facilities that you will have access to – as a patient—you can definitely pay a visit to the clinic yourself in order to determine suitability. Follow these tips for sure!
Here's to a pain-free future to you!