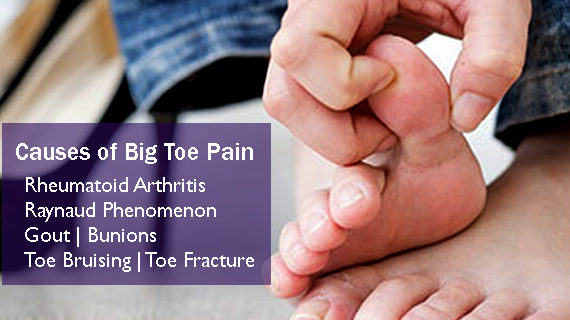 Causes of Big Toe Pain
Big Toe Pain is a common issue that can affect anyone. It is to be remembered that big toe pain is not a condition in itself but a symptom and sign of a more serious underlying condition. In most cases, patients experiencing big toe pain suffer from swelling, tenderness, misalignment, discoloration or bruising, ingrown toenails, bunions and corns as well as discomfort while walking.
Big Toe Pain can be caused by nerve damage, trauma, pressure and friction on the big toe or any kind of autoimmune disease.
Here are the most common underlying conditions that lead to Big Toe Pain:
Rheumatoid arthritis
Rheumatoid arthritis (RA) is a type of arthritis that can cause swelling, pain and stiffness of joints, as well as loss of function. The condition can impact any joint of the body including the big toe. RA is a common autoimmune disorder and it requires lifelong treatment.
Gout
Gout is classified as a type of arthritis, which leads to sudden pain, swelling and stiffness of the joints. It frequently affects the big toe.
Raynaud Phenomenon
Raynaud Phenomenon is a disorder that affects the blood vessels. The symptoms are mostly observed in the toes and fingers where the blood vessels get narrowed when becoming cold or stressed. Once this happens, the blood cannot reach the skin surface and all the affected areas tend to turn blue and white.
Bunions
Bunions can be described as a type of joint deformity that is noticeable around the base of big toe. Wearing certain types of footwear can aggravate bunions.
Toe bruising
Toe bruising or toe contusion is a condition that involves damage of blood vessels (capillaries and veins) that return the blood from the tissues to the heart. Blood tends to pool in the affected area and it turns purple or blue. It is mostly caused by a hit, bump or a fall.
Toe fracture
Toe fracture and broken toes are quite common. They are usually caused by crush injury i.e. some object falling on or stubbing of the toe.
Treatment of big toe pain
Treatment for big toe pain depends on the underlying condition that led to the symptoms in the first place. The doctor will perform a number of diagnostic tests such as X-rays and bloodwork to determine the condition that has led to the pains. Based on that, your doctor will recommend treatment methods. In many cases, the pain can be resolved with rest, application of ice and elevation. Sometimes soaking the affected toe in lukewarm water may also help. The doctor may also recommend a change of footwear and prescribe some NSAID medications. Surgeries and injections may become necessary if the condition that causes the big toe pain is a serious one.