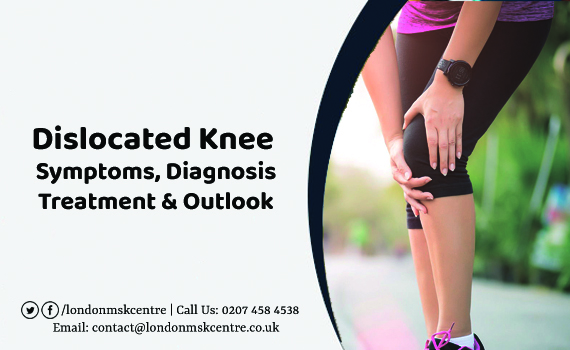 Dislocated Knee: Symptoms, Diagnosis & Treatment
Your knee is a rather complex joint and is located between your lower and upper leg. It is also the meeting point of three bones – the femur or thighbone, tibia or shinbone, and patella or kneecap. The knee also contains different kinds of cartilage, tendons, and ligaments. All of these, are important as they help it work the way that it is supposed to. Your knee gets dislocated when there is a disruption in the position of your thighbone with respect to the shinbone in the knee joint. There are many reasons why this might occur, for example, because of trauma due to a fall, car accident, or sports injury.
Dislocated Knee Symptoms
The main symptoms which may indicate that your knee has been dislocated include:
hearing a popping sound when the injury happens
limitations in the different kinds of ways you can move your knee
severe pain in the dislocated area
swelling
a deformity in the knee joint that can be seen rather clearly
inability to keep doing even the most regular activities
knee joint becoming unstable – it feels like as if it cannot bear any weight
These symptoms manifest at the time of injury.
Dislocated Knee Diagnosis
Your specialist can perform examinations to check if your knee has been dislocated. As part of this they would check the following:
pulse in various parts of your leg and knees
nerve conduction
blood pressure in the affected leg
temperature and colour of your skin
sense of feeling and touch in the affected leg
Whenever your knee is dislocated the first – and the most important – thing that a healthcare provider wants to do is to stabilize the limb that has been injured.
Treatment of Dislocated Knee
Treatment often starts with making sure that there is nothing wrong with the position of the kneecap. The process by which the kneecap is moved back to its proper location is also referred to as reduction. During a reduction, you would be under sedation or be given medicine to make sure that you do not experience any pain. Your leg would be moved to allow your kneecap to get back to its proper place. After this, a brace will be put on your leg. In long-term rehab is the most important aspect of a treatment plan.
Outlook
The outlook for your knee dislocation depends on various factors. How did the injury happen? What is the extent of the damage? Were the nerves damaged? Did the damage happen to your blood vessels? What was the method of treatment used in your case? How well did you adhere to the rehab plan that was set up for you? It is very important that you recognize how serious a problem this is and get proper treatment from a knee doctor. Apart from the nerve and blood vessel-related complications, you may face issues such as deep vein thrombosis and compartment syndrome in these cases.