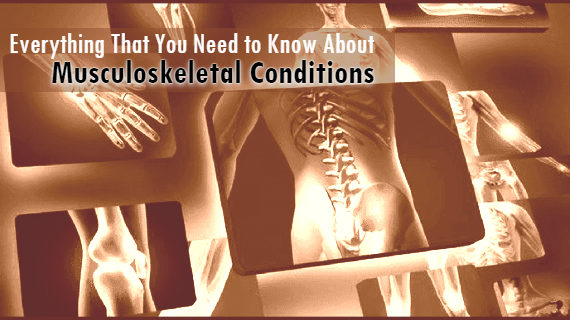 Everything That You Need to Know About Musculoskeletal Conditions
Musculoskeletal conditions are a common source of pain and discomfort for many people across the world. Musculoskeletal disorders, also known as MSD's are disorders and injuries that mainly affect the musculoskeletal system or the organs responsible for movement in the human body, namely muscles, ligaments, bones, tendons, discs, nerves and blood vessels. It has been found that a large number of people in UK are affected by musculoskeletal conditions every year and spend a hefty sum of money on medical treatment associated with these. Therefore it is very important that you learn everything about musculoskeletal conditions and the way that they can affect your health.
There can be a wide range of causes that lead to musculoskeletal conditions. There might be work or sports related injuries or injuries that are caused by fatigue and weakened parts of body. Musculoskeletal imbalance is yet another important factor that leads to such conditions. Many musculoskeletal conditions are also caused by ergonomic factors. It has been observed that repetition of different types of stressful tasks, forceful exertions and staying in an awkward position or posture for long hours can lead to different kinds of musculoskeletal issues. Most people who get affected by these conditions are unaware that they inadvertently do things that increase the risk factor for these disorders. It is therefore extremely important to have sufficient knowledge about the way these conditions affect the human body.
There are a wide range of musculoskeletal conditions that you should be aware of. Some of them are mentioned below:
Tendonitis
Rotator Cuff Tendonitis
Carpal Tunnel Syndrome
Tendon or muscle strain
Ligament Sprain
Thoracic Outlet Compression
Tension Neck Syndrome
Trigger Thumb or Finger
Epicondylitis
Digital Neuritis
Radial Tunnel Syndrome
DeQuervain's Syndrome
Degenerative Disc Disease
Mechanical Back Syndrome
Herniated or Ruptured Disc
Many people think that they are immune to such conditions since they do not face such painful sensations very often. However, this could not be further from the truth. Anyone can be affected by musculoskeletal a condition at any point of time. So if you are diagnosed with any of the conditions listed above, you should definitely visit a musculoskeletal clinic that can offer top quality medical treatment. If you feel serious pain in the muscles, bones, tendons, ligaments, blood vessels, nerves and discs, you must get in touch with a doctor as soon as possible, as you may not be sure about the cause or severity of the issue.
There are currently numerous reputable musculoskeletal clinics in London that can offer you highly comprehensive treatment solutions. These clinics are equipped with the most advanced diagnostic and treatment facilities, which means that they can resolve your pains and additional problems within a short time. You can also rely on them for offering you non surgical treatments that can help to eradicate any discomfort at the earliest possible instance.