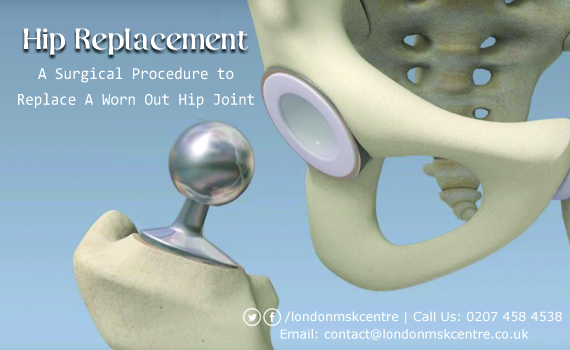 Hip Replacement – A Surgical Procedure to Replace A Worn Out Hip Joint
A Hip Replacement is a surgical procedure where the hip joint is replaced with an artificial one. This form of treatment is recommended for a number of conditions, although it is most commonly used to treat osteoarthritis. This is essentially a last resort option. Generally, Doctors suggest surgery only when all other methods of treatment have failed to resolve the condition. In the case of Hip Replacement, this is when a condition, such as osteoarthritis, has impaired function of the joint and it is more effective to use a new one. This new joint, made of plastic and specialised metal alloys, improves the range and quality of motion of the joint and allows the return of normal movement.
What happens during Hip Replacement surgery?
There are two ways in which hip replacement surgeries can be performed. It can be done the traditional way or the surgeons may use minimally invasive techniques. The main point of difference between both is the size of the incision that is being made during the operation. In normal hip surgery, you will be given general anaesthesia so that your muscles are able to relax. This would also put you into a deep sleep and ensure that you do not feel any pain at the time of the surgery.
What happens after the surgery?
There is a likelihood that you may have to stay at the hospital for around 4-6 days. You may have to spend all this time in bed. A cushion, which is shaped like a wedge, would be placed between your legs and this is supposed to keep your hip joint in its proper place. A drainage tube would also be attached to your bladder. This would help you relieve yourself as and when you need to. You would also be treated with physical therapy from day one postoperatively.
Activities to avoid after such a surgery
You have to avoid pivoting or twisting on the affected leg where the surgery was done for a period of 6 months to a year following the surgery. In this period, you should also not cross the leg in question past your body's midline. You should not turn it inward as well. You should also not bend your hip beyond 90 degrees. This means that you would not be able to squat or bend forward at your waist.
Preparing for the recovery period
There are a few small things that you can prepare at home for the postoperative period. These will make your life a lot easier.
Do not climb a lot of stairs.
Minimize movement while you are recovering.
Make sure you arrange things in such a way that you do not have to move more than once or twice a day.
You should always sit in a chair that is firm and has a straight back as well. You should not use recliners in this period.
Make sure that your rooms and floors are all clutter-free to mitigate the risk of tripping and falling.