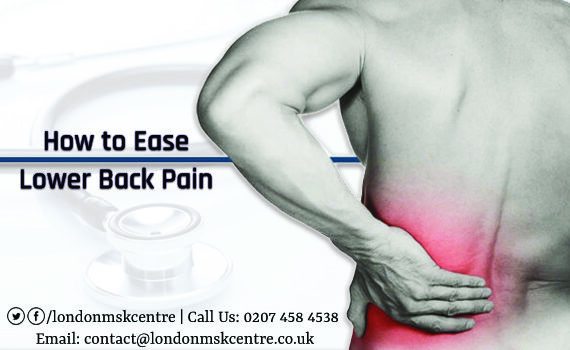 How to Ease Lower Back Pain
Back pain is a very common cause of complaint. The nature and origin of back pain can vary a lot. Your body has a well developed musculoskeletal system that is made up of bones, tendons, muscles, and ligaments that play a crucial role in providing support to your body and enable you to move it freely. The hamstring muscles and the hip flexor are some of the muscles that are responsible for lower back pains in your body. Doctors and musculoskeletal specialists always urge people to have an active life so that they can avoid back pains.
Here are some of the things that you can do at home in order to ease your lower back pain.
Stretch your muscles
Strong muscles in the abdominal core area can assist in supporting your back. Hence, you should try to enhance the strength and flexibility of the muscles in this area as this can help in relieving your pain as well as prevent it from developing in the first place. Ideally, you should get some stretching exercises once you are out of bed in the morning. However, you can also exercise later at any time of the day when your body is all warmed up. You can try out yoga; Pilates or tai chi in order to strengthen your core muscles as well as the hip muscles. A good way to develop your entire lower and upper back area is to simply lie down on your tummy and gently lift your arms and legs in flying motion.
Release the inner endorphins
One of the factors that lead to back pains is stress and anxiety. When you experience a lot of stress on a regular basis, it can lead you to develop physical pains, including pains in the lower back area. Hence, you should focus on releasing endorphins in your body. Endorphins are a type of hormone that is produced naturally in the body. The endorphins can effectively block the pain signals from getting into your brain. The endorphins also protect you from stress, depression, and anxiety, all of which are closely related to chronic back pain. If left unchecked, stress and depression can make your pain worse. You can practice meditation, aerobic exercise, and massage therapy to ease the signs of back pains.
Have sufficient sleep
Pain and physical discomfort are some of the major problems that can disturb your sleep patterns. Similarly, inadequate sleep has also been linked with back pains. Hence, it is very important that you have sufficient sleep on a daily basis to help you with your back pains. It has been found that people who get good sleep regularly are able to deal with their physical pains in a better way. Therefore, you need to figure out what is keeping you from having a good night's sleep and then resolve such problems quickly.