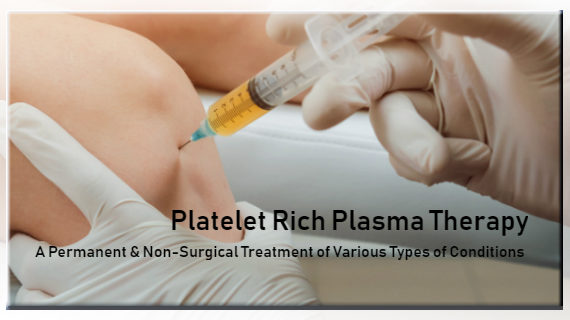 Platelet Rich Plasma Therapy: A Permanent & Non-Surgical Treatment of Various Types of Conditions
Platelet Rich Plasma, also known as PRP, works as a permanent and non-surgical treatment of various types of conditions, such as arthritis, tears, damages and sprains that affect the ligaments and tendons. PRP makes use of the natural healing and recuperative processes of the body.
PRP therapy involves a concentration of platelets being obtained and then injected into the damaged tendons, ligaments and joints in order to promote tissue repair and healing. The platelets are very rich in growth and healing factors. This means that on an average once an injured individual goes through the procedure, he or she can return to a normal pain-free activity within about 4 to 6 weeks.
While PRP has been around for some time, it was actually made popular by amateur and professional athletes as they used it for treating conditions like stiffness, swelling, tenderness, pain and inflammation. The following conditions can be treated with PRP therapy:
Lumbar spine disc pains
Shoulder instability and pain
Rotator cuff injuries like partial-thickness
Hamstring strains and hip strains
Golfer's and tennis elbow
Patellofemoral syndrome
Knee sprains and associated instability
Plantar fasciitis
Ankle sprains
Patellar tendonitis
Achilles tendonitis
Nerve entrapment syndromes like Carpal Tunnel Syndrome
Knee, hips and other types of joint osteoarthritis
Cervical facet and lumbar dysfunction and pains
Sacroiliac joint dysfunction and associated pains
The good thing about PRP is that it provides patients with a highly effective and permanent medical solution that is not going to wear off over the course of time. PRP therapy is an effective alternative to surgery in many cases. However, the success of PRP also depends on the severity of pain or injury. Many non-operative medical options that have been in use for a long time focus on eradicating the pain and discomfort without actually remedying the underlying factors. In this sense PRP stands out from other non-surgical treatments, as it can achieve complete and permanent recovery from painful conditions.