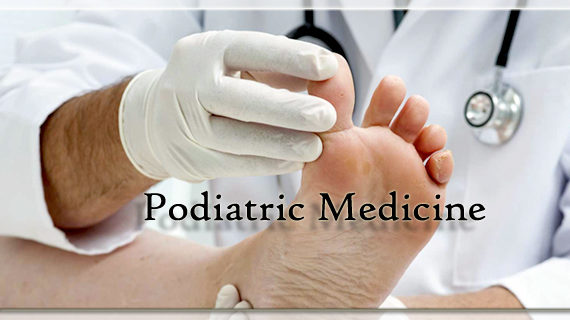 Podiatric Medicine
The term Podiatry refers to a branch of medicine related to treatment of disorders, defects, and wounds that affect the foot. As a discipline, Podiatry extends over a number of healthcare domains, including:
surgery
physical therapy
biomechanical therapy
adjunctive therapy
What kinds of issues can a Podiatrist deal with?
Podiatrists are capable of dealing with the following kinds of foot issues:
bunions
corns
neuromae
ingrown nails
hammertoes
calluses
heel pain
sprains
fractures
infections
injuries
Common Foot Problems
Podiatrists typically diagnose and treat the following common foot conditions:
Bunions:
Bunions are thought to be a hereditary condition. The toe deviates from its natural position and the joint becomes deformed, leading to a bony protrusion outwards from the foot at the base of the big toe. Bunions are often aggravated by wearing shoes that have little space for your toes. Surgery is the only available treatment to correct the deformity, although the symptoms can be managed.
Hammertoes:
Hammertoes are a condition arising from muscular imbalance. This in turn leads to your toes starting to look like claws. Typically this condition affects the second toe, but it can affect other toes as well. You can treat the condition by wearing socks and shoes that do not cramp your toes.
Heel spurs:
In heel spurs your plantar fascia becomes inflamed and thicker than usual. You can always reduce the strain by wearing the right shoes and using the best possible warm up techniques.
However, in chronic cases you need minimally invasive surgery and shockwave treatment to resolve the condition.
Ingrown nails:
As the name would suggest this is a condition where your nails dig into your skin. This normally happens because your nails have not been trimmed the right way. However, there are other causes, such as:
shoe pressure
family history
poor foot structure
fungus infection
injury
You can stop it from happening by trimming your nails in a straight way and also by wearing shoes that are of the same size. They should also not be shallow or tapering.
Neuromae:
Neuromae involve nerves between joints becoming compressed against the ligaments. Abnormal structure of bones and shoes that do not fit well can lead to this condition as well. Podiatrists normally treat them by using the likes of shoe inserts, cortisone injections, and metatarsal pads. They do not have to be treated surgically, although surgery is often used if conservative measures fail.
Conclusion
Podiatrists are specially trainer to diagnose and treat a range of common foot issues. There are often local Podiatry clinics and these can be an important first port of call, should you have concerns about your feet.