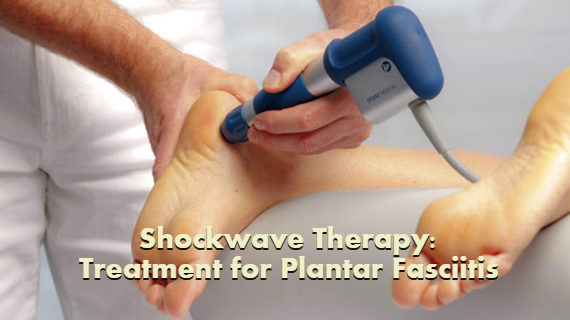 Shockwave Therapy: Treatment for Plantar Fasciitis
Plantar fasciitis is the most common reason for heel pain. In fact, it is said that the pain that you experience in your heels in the morning when you take the first step occurs because of this particular condition. The pain resulting from this condition can be severe enough for you to be limping or to require support when you take the first few steps during the morning. Normally, the pain would subside after an initial burst that lasts around 15 to 20 minutes. However, the pain will return with renewed vigour and seemingly greater potency by the end of the day.
Not the only way that this cookie crumbles:
Plantar Fasciitis symptoms are often described as above, but the way this condition manifests can vary quite significantly. At times, people experience pain in their heels when they are running, hiking, or walking. Others may feel pain if they have stood for a long period of time. Quite often people complain that they are feeling sore after a long day at work. The descriptive terms that are normally used for this condition are stone bruise, deep throbbing, sharp dagger, and dull ache.
What is plantar fasciitis?
Plantar fasciitis can be described as the microscopic inflammation and tearing of a ligament named the Plantar Fascia. This long ligament is located at the bottom of our feet. When we over-pull our fascia it can lead to a spur, but this is very rarely the reason such pain happens. This condition is also known as Heel Spur Syndrome. There are many available treatments for those suffering from Plantar Fasciitis and the most common are listed below:
Stretching
Icing
Physical therapy
Orthotics
Night splints
Steroid injections
Shockwave therapy
Surgery
Shockwave therapy:
The term itself may make people nervous, as they may assume that treatment involves electric shocks that are administered to the affected part. Nothing can be farther from truth.
Shockwave treatment of Plantar Fasciitis?
Extracorporeal Shockwave Therapy (ESWT) involves sound waves being sent through the affected area with the aim of creating vibrations and causing controlled injury to the tissue that has been affected. The body responds to this by increasing its healing capacity for that particular area and this stimulates repair of the damaged area. To treat Plantar Fasciitis the cycles are directed towards the heel and the surrounding areas.