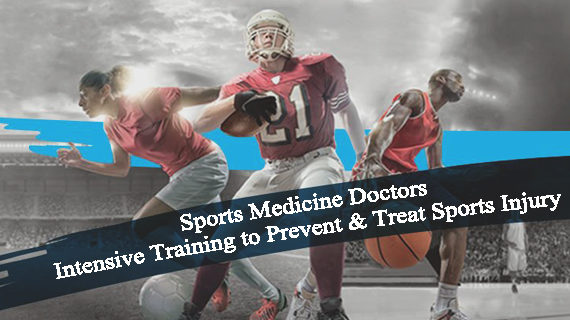 Sports Medicine Doctors: Intensive Training to Prevent & Treat Sports Injury
A Sports Medicine Doctor has intensive training to prevent and treat injury or illness. These professionals are well suited for offering comprehensive medical care and solutions for athletes and sports teams. They can also treat active men and women who are looking to always maintain a fit and healthy lifestyle. Sports Medicine Doctors solely specialize in non-surgical sports medicine. They usually work with sports teams and serve as physicians for various kinds of regional, club level and international sports teams for various field games like football, cricket, basketball, hockey and gymnastics. They also support professional athletes in the Olympics or other major sporting events.
Sports Medicine Doctors have intense training and experience in the sphere of musculoskeletal medicine. They offer expert solutions in non-surgical procedures and handling of various kinds of musculoskeletal circumstances. They can also diagnose different kinds of sports injury and recommend surgical procedures as and when necessary, although it should be remembered that most sports injury treatments are non-surgical. They can also recommend different types of exercise, which can help in keeping the body active or reducing muscle pains and sores.
Below, are some of the types of problems that are managed by a Sports Medicine Doctor.
Acute injuries like muscle strains, ankle sprains, fractures as well as shoulder and knee injuries
Overuse injuries like rotator cuff tears, stress fractures and various forms of tendonitis
Injection and medical therapies for osteoarthritis
Professional sports medicine experts who have been operating for many years are also adept at handling non-musculoskeletal injuries.
Some of the most common examples are:
Prevention of injuries
Promotion of a healthy lifestyle
Concussions or mild traumatic brain injuries and various other head injuries
Nutrition, ergogenic aids, supplements and critical or non-critical performance issues
Athletes with acute or chronic illness like infectious mononucleosis, diabetes or asthma
Exercise prescription and recommendation for patients looking to enhance their fitness
Recommendations on conditioning exercises and safe strength training
Working with injured or sick athletes and deciding when they can get back to their earlier state of acting playing
While it is true that sports medicine physicians usually tend to work with competitive athletes, they also offer comprehensive medical care and attention to non-athletic individuals as well. This means that men and women who are simply looking to have an active life and start working on an exercise routine can benefit from their in-depth medical expertise. There are many people who tend to run or perform exercises only occasionally. For them, the best thing to do is to get in touch with a sports medicine expert and benefit from his or her expertise. These professionals can offer customized treatment solutions for people based on their specific needs. The same kinds of medical solutions that are typically used for athletes can be used for the general population as well.