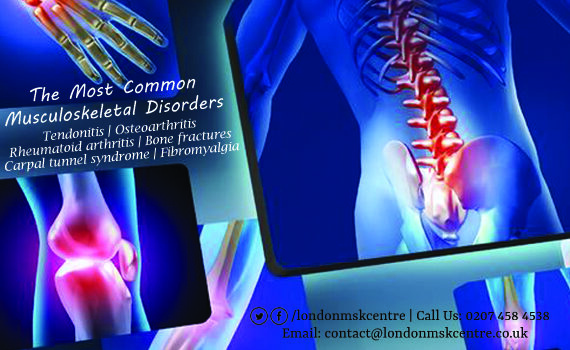 The Most Common Musculoskeletal Disorders
Tendonitis
When it comes to the most common musculoskeletal disorders the first name that comes to mind is tendonitis. This is basically a condition where your tendon is inflamed. The tendon is the fibrous tissue that connects bones with muscles. Tendonitis can happen in various parts of your body such as the shoulder, ankle, elbow, and wrist, to name a few.
Osteoarthritis
Osteoarthritis is commonly known simply as arthritis. This is a condition that affects your cartilage. Cartilage is the rubber-like protective tissue that is located at the ends of all our bones. In this condition, the cartilage wears down gradually.
This can lead to joint pain in the following areas:
Hands
Knees
Neck
Hips
Lower back
Rheumatoid arthritis
In such a condition, the immune system of your body attacks your cells. If you do not treat it, with time this would erode your bones and cause your joints to be deformed, especially the fingers. Such arthritis normally starts by attacking the joint cartilage. The inflammation can then spread to other parts of your body as well.
Bone fractures
There are so many reasons why your bones can suffer fractures. The commonest causes in this regard are trauma, disease, and overuse.
At times, this could lead to a partial break of your bones. In certain cases, your bones could be completely broken as well. A bone fracture is unbearably painful. At the same time, it can also lead to the affected area becoming temporarily dysfunctional.
Carpal tunnel syndrome
This is basically a pinched nerve in your wrist. This occurs more often than not because of using your hand repetitively. It could also happen because of an extreme extension or flexion of your wrist or hand. It normally leads to a sense of tingling and numbness in your arm or hand. If you do not treat it, it can lead to permanent disability and damage.
Fibromyalgia
This is a condition where you have tenderness and pain throughout a significant part of your body. It often comes with a degree of fatigue. Such fatigue can have a bad effect on your sleep habits, mood, and memory.
How to treat these conditions?
If your doctor diagnoses any of these conditions she or he would recommend a treatment plan to resolve the issue. This could include a combination of moderate exercise as well as over-the-counter medicines. This primarily includes medicines that fight inflammation and Ibuprofen. At times, you may also have to undergo occupational and physical therapy to counter your condition. However, you can also prevent such situations from happening. The best way to do so would be to develop healthy habits in life. This includes regular stretching and exercise so that your bones, muscles, and joints are strong. You can also take several safety measures in this regard. One of them would be to minimise repetitive motions that can lead to such conditions. You should also lift heavy objects with more care. Maintaining good posture helps prevent back pain as well.