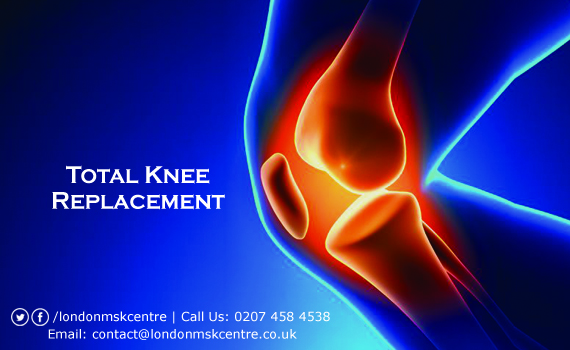 Total Knee Replacement
The surgical procedure known as a Total Knee Replacement can be defined as a surgical process whereby a knee joint, which is in a diseased state, is replaced by artificial material. The knee is basically a hinge-like joint that helps you move. It is located right at the meeting point of lower leg and the thigh bone.
What patients should consider such treatment?
There are certain conditions where a Total Knee Replacement would be appropriate. These tend to be cases where your knee has been damaged almost beyond repair by conditions such as trauma or progressive arthritis. In the UK the most common reason for undergoing a Total Knee Replacement is severe osteoarthritis.
What are the risks of a Total Knee Replacement?
There are several possible risks and complications associated with a Total Knee Replacement, which include:
Blood clots
Infection
Nerve or tissue damage
Dislocation
Stiffness
Deep Vein Thrombosis
Pre-operative assessment
Your surgeon or Doctor will normally evaluate the joints that are located right next to your diseased knee. This includes the ankle and hip joints. If any of these joints are severely damaged as well, then merely replacing your knee would not be enough at all. In such cases only knee surgery would not improve things, as the surrounding diseased joint would experience greater pain.
After the Surgery: These procedures normally need anywhere between one and a half hours and 3 hours to be completed. After the surgery is done you would be taken to a recovery room. Here your vital organs would be monitored on a frequent basis. When you stabilize you would be taken back to your hospital room. In the immediate aftermath of such surgery, it may get difficult for you to pass urine.