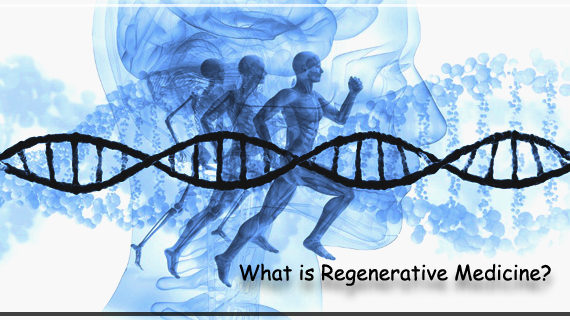 What is Regenerative Medicine?
In the quest for better medicines, and in an effort to develop treatments that are non-surgical and delay the need for an invasive procedure, attention is increasingly turning to cell-based therapies.
The most commonly used cell based treatments are Platelet Rich Plasma (PRP), monocytes and fat derived mesenchymal pluripotent cells.
Mesenchymal pluripotent cells have the advantage of being able to differentiate to all types of human cells, thus adapting to the local regenerative needs depending on the type of injury. They have the ability to enhance the healing response of local tissues and at the same time actively promote healing and regeneration by differentiating to the types of cells required.
Mesenchymal pluripotent cells have been used to treat a large number of degenerative conditions and recently to enhance healing following myoskeletal injury and trauma.
The biggest breakthrough in the use of mesenchymal pluripotent cells for myoskeletal regenerative medicine is the ability to extract active and viable autologous adipose (fat) derived mesenchymal pluripotent cells, in other words cells derived from one's own fat deposit, using thorough mixing of the tissue (mechanical emulsification). The fat is harvested by lipoaspiration using local anaesthesia and minimally invasive technique.
Conditions treated with Regenerative Medicine
Mesenchymal pluripotent cells can be used for orthopaedic degenerative conditions and for the treatment of myoskeletal trauma. These include:
● Osteoarthritis
● Tendon injuries
● Muscle injuries
Due to its high cost, mesenchymal pluripotent cell treatment is usually offered when other techniques have failed to provide improvement in symptoms. It is always combined with physiotherapy and rehabilitation for optimal results.
The results of mesenchymal pluripotent cell treatment are supported by few studies but there are anecdotal results of up to 68% improvement in symptoms after 3 treatment sessions.
Benefits of fat-derived Mesenchymal Pluripotent Cells
– Can be used as an alternative to surgery for patients with early degenerative conditions or as first treatment after traumatic injuries
– Can be used in combination with surgery to enhance surgical results should conservative treatment fail
– It is a minimally invasive procedure causing very little discomfort
– Human fat has been proven to maintain it's regenerative properties and doesn't lose it's healing abilities with age
– Because of its thickness, fat tends to stay in the area that is injected differentiating to all required types of cells for the regenerative process to complete and promote local cells to heal by producing healing factors
Risks of Mesenchymal Pluripotent Cell Treatment
Treatment with autologous cells, in other words cells derived from one's own fat deposits, has minimal complications. The risks of all injections are still present and these include stiffness, infection, local soft-tissue adverse reactions and swelling; but the possibility of any of those happening is very low. There is a slightly higher risk of developing scar or fat malposition at the harvesting area but the biggest risk is that the procedure requires up to 3 sessions with a success rate of approximately 70%.
How does this differ from PRP?
– Both fat derived mesenchymal pluripotent cells and PRP can be used for the treatment of myoskeletal degenerative conditions and trauma.
– Both are cell treatments, using autologous tissue.
– Both require up to 3 sessions in order to have the full effect.
– There is a significant difference in the cost, PRP is less expensive.
– Time to produce is again significantly less for the PRP treatment.
– PRP has practically no donor site morbidity; lipoaspiration to produce mesenchymal pluripotent cells is more invasive than blood aspiration.
– PRP is less complicated as a procedure and can be performed during the clinical consultation.
– Mesenchymal pluripotent cells are active and continue to proliferate in the area they are injected, they differentiate to all types of tissue required for the treatment and produce regenerative and healing factors. In contrast PRP therapy is passive; only releases healing factors from the platelets that were obtained. Platelets do not continue to proliferate after the injection and their function stops when all the healing factors are released.
– Fat is thicker and tends to remain in the area where it is injected. In contrast PRP is fluid and disperses more in the area where it has been injected.
PRP is a first line cell treatment that can be offered even during the initial consultation in the clinic. Mesenchymal pluripotent cell treatment is more complex, more expensive and requires a minor surgical procedure, therefore is usually offered in cases where other treatments have failed.
By Mr. Georgios Arealis, Consultant Orthopaedic Surgeon.