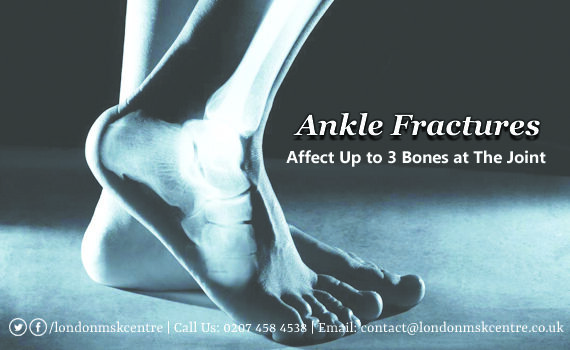 Ankle Fractures – Affect Up to 3 Bones at The Joint
A broken ankle may refer to either a single fracture or many simultaneous fractures. A fracture could affect up to 3 bones at the joint, which are the tibia, talus, and fibula. The Tibia is the shinbone. The Fibula is the bone that is located on the outer part of the ankle. The Talus is the name of the bone that joins your foot to the leg.
Ligaments link the bones so that your joints remain stable. If you twist your ankle, it is the ligaments that suffer the damage. They can also be injured when your ankle is fractured.
Why does your ankle break?
Broken or fractured ankles normally occur due to rotational injuries. These are injuries where your ankle gets twisted, rolled, or turned. Walking, running or sporting activities are common causes. More serious causes include car accidents.
Causes that are sudden are often known as Traumatic Ankle Fractures.
What causes ankle stress fractures?
Stress fractures normally result from high pressure activities, such as hiking, field sports, and running. In such cases, the injuries do not occur straightaway.
Stress fractures can also occur if you rapidly increase your activities. For example, if you often jog 1km per day, but then decide to jog 20km as a one off, this can give rise to stress fractures.
The different types of ankle fractures
Different types of ankle fractures are normally differentiated by which bones are affected.
What are the most common ankle fractures?
The 4 commonest kinds of ankle fractures are termed as 1. lateral malleolus fracture, 2. trimalleolar ankle fracture, 3. bimalleolar ankle fracture, and the fourth one is pilon fracture, also known as plafond fracture. The lateral malleolus fracture happens to be the commonest kind of ankle fracture. The next on this list is that of bimalleolar ankle fracture. In trimalleolar ankle fracture, you have broken on 3 sides of the ankle. In the pilon fracture, the roof – which bears the weight – suffers the fracture. The hazard of long-term damage that you have in these cases is directly proportional to the number of fracture lines you have.