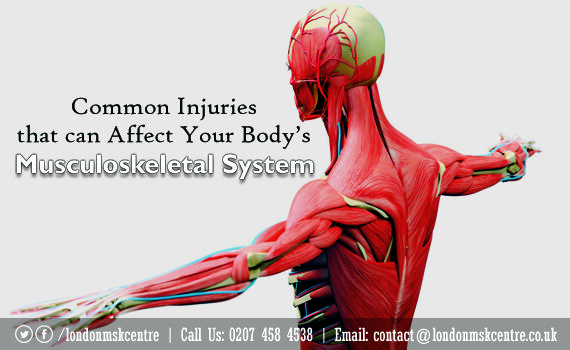 Common Injuries that can Affect Your Body's Musculoskeletal System
Musculoskeletal injuries are actually more commonplace than you might think and a number of different factors may lead to them. When you are faced with any of these injuries, it is absolutely necessary that you get in touch with a reputed hospital or clinic that can provide you with appropriate diagnostic, medicinal and operative solutions so that you can get back to your normal life. It is important to note that musculoskeletal injuries are the second highest factor leading to disabilities across the world and therefore they should not be taken lightly.
Here is a look at some of the most common injuries that may affect the musculoskeletal system of your body for which you should seek immediate medical treatment.
Carpal Tunnel Syndrome: When you have Carpal Tunnel Syndrome, it can lead to pain and numbness in your hand that may sometimes be accompanied by a strange tingling sensation. It develops when increased pressure on the median nerve makes it difficult for it to function smoothly. The median nerve is responsible for feelings and sensations in the ring finger, the index finger, the middle finger and the thumb. The Carpal Tunnel Syndrome is a condition that can happen due to repetitive hand movements such as when typing for significantly long stretches of time.
A good way to reduce the chances of Carpal Tunnel Syndrome is by minimizing activities that involve repetitive hand motions and taking breaks frequently from them. In case you already have Carpal Tunnel Syndrome, it is important that you achieve relief through methods like taking anti-inflammatory drugs, using a wrist brace as well as performing exercises that can enhance flexibility of the muscles of the wrist and arm.
Lateral Epicondylitis: Lateral Epicondylitis or "Tennis Elbow" can be described as a type of inflammation affecting the tendons which help to join the muscles on the forearm present on the outer part of the elbow. Signs and symptoms of Lateral Epicondylitis include a sensation pain or even burning on outer regions of the elbow along with weak grip strength. The condition can affect professional and amateur tennis players. Apart from impacting racquet sports players, the musculoskeletal condition can also affect anyone experiencing stress in their elbow such as painters, plumbers, butchers and carpenters just to name a few. In order to overcome Lateral Epicondylitis, it is important to make use of anti-inflammatory medications and ice along with adequate rest. Stretching exercises can also help in normalizing the pain.
Rotator Cuff Injuries: Rotator Cuff Injuries usually affect the shoulder muscles. The shoulder is comprised of the humerus, scapula, and clavicle. Your shoulder works like a standard ball-and-socket joint. The head of the upper arm bone or the ball fits on a socket in the shoulder blade. The arm can maintain its position through the rotator cuff. The rotator cuff effectively attaches the shoulder blade to the humerus so that you can move your arm. Injury in the rotator cuff leads to discomfort and loss of mobility. A doctor specializing in musculoskeletal conditions can perform the treatment of such problems.